Play Squash to get fit and enjoy life
Our club has the best facilities in Auckland with 4 squash courts in excellent condition, two doubles courts and the amazing interactive squash system. This is a family club with a big junior membership. Join now to have fun with squash at our friendly club.
---
Howick Squash Club is available for casual players. Simply pay a per court fee for 45 minutes.
---
We have a full range of flexible memberships to suit anyone. Play for play and casual play is available here!
---
Coaching for all ages and abilities is available to help you improve your game. (Professional Coach – Glen Wilson)
---
At Howick Squash Club we have a fantastic social or competitive calendar of events. Juniors get free coaching on Friday evenings and have a range of other coaching options available to them.
---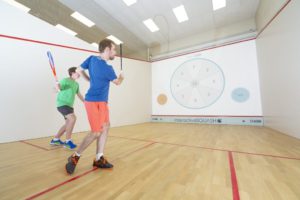 Social or Competitive. Squash is loads of fun, you get a fast and enjoyable workout and you do it all year round sport. Playing indoors means you never get rained out. take part in a range of events for all types of players, from the quick social hit around through to our annually hosted open competition.
Our club's hours are Monday – Saturday 6.00am – 11.30pm and Sunday is 6.00am – 11.00pm.
Our booking system is fully computerised using Hello Club or has a online site and also a kiosk at the club. To access the online systems visit the Hello Club website.
Howick Squash Club offers affordable membership options for all ages. We are one of the few clubs who offer a Pay-for-Play option for less frequent players as well as easy to setup monthly payment terms for most membership types. Our standard memberships are Play-for-Play memberships which have an annual fee and a per session fee applies (a session is 45 minutes). You will need to pre-load your account with funds and a per session cost is automatically deducted from your account balance.
Howick Squash Club
Howick Squash Club has a well earned reputation as a family and a social club.