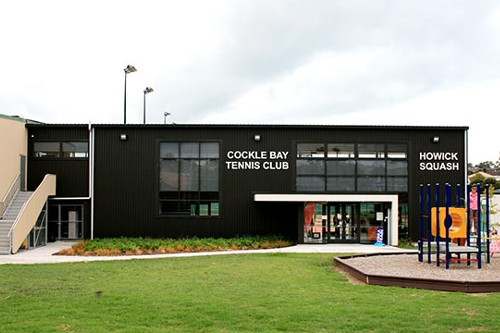 Squash Courts
Our four glass-backed courts are well-lit and modern, and two movable walls opens up the opportunity for doubles matches. Tiered seating behind each court offers spectator viewing for tournaments and exhibition matches.
Joint Tennis Facilities
Membership of the squash club provides members with the opportunity to belong to the tennis club for a change of pace. Join both and you will receive 30% discount off both clubs (discount is applied to membership subscriptions once the applicable association fees are deducted).
Bar and Lounge
After your game you are welcome to socialise with fellow club members in the bar and lounge area. With a large screen TV and a fire for colder days, it is a relaxing and friendly place to be. The club organises many social events throughout the year and these are usually held in the lounge area. The kitchen is often open during tournaments and for club events.
Warm-up Gym
Featuring a rowing machine, exercise bikes, Swiss Balls and a Vibra Train machine, the warm up gym will help to ensure you are ready and warmed up for your game. Mats and weights are also available.
Pro-Shop
Located at the entrance to the building, the Pro-Shop is staffed by friendly people who play both squash and tennis. They can help you find the right rackets and shoes, and offer a range of sports clothing. The Pro-Shop also has a racket stringing machine for your convenience. http://acesports.net.nz
Physio
To help keep you in top playing condition, a physio therapy clinic is also located on site. If you are coming back from an injury or looking to prevent one, contact Total Body on 09 534 5990..
Conference Facilities
Looking for space to host a meeting or seminar? The club has a large conference room available for hire. Find out more..