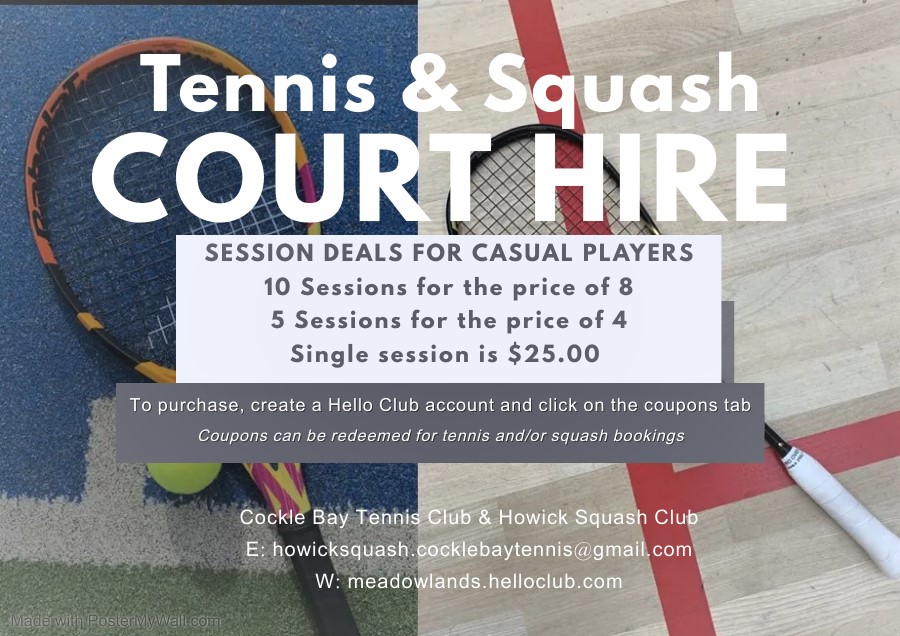 We welcome non-members to hire a court in our off peak times for casual play.
The cost of the hire is $25.00 per 45 minutes for the court. Rackets and balls may be hired when the Pro Shop is open. All players must ensure they wear clean non-marking shoes (no black soles). To book a court you do need to Register to Play and this will enable you to make bookings and payments. The system will generate a one off pin number which gives you access to the courts and is required to register for your booking on arrival.
Only 2 players on the court at one time.
CASUAL COURT HIRE
Casual Court Hire is available 7 days a week at Howick Squash Club. We are open for casual bookings 7am – 5.30pm weekdays, Saturday 7am – 2.30pm and Sunday 7am – 5.30pm so there are plenty of opportunities for you to grab a friend and head down for a hit!
---
Court hire is $25.00 per hour. We also offer multiple session deals.
---
Step 1: Create an Account
Create a Hello Club Account
Click on the Coupon Tab. There is an option to select a coupon to receive a session deal then click on Purchase Coupon button
On the next page, select the coupon(s) you want to purchase and proceed to the payment page
Once purchased, you will be able to view and track the coupon usage from the same page
Step 2: Book a Court Online
Log onto your Hello Club Account
Click on Bookings tab on front page
Click on your preference (Tennis or Squash), choose your day and time you wish to play
Select option "Visitor" and follow instructions.
If you have purchased a coupon, use the coupon option to pay, otherwise you will need to make a payment for your booking.
Step 3: Arriving on Site
Once you book your court online you will receive a PIN NUMBER. Each time you make a booking the pin number will change.
The one-off PIN NUMBER gives you access to the building.
Use your PIN NUMBER to confirm you have arrived on-site at the computer kiosk located at the door leading to the courts.
If you playing at night this will also turn the court lights on for you for the duration of your booking.
Please ensure you lock the building door to the courts if you are the last to leave.